Financial planning software

Ganacos allows you to manage your financial reporting by automating the production of your dashboards and to support your budgeting process in a secure and collaborative manner by simulating alternative scenarios.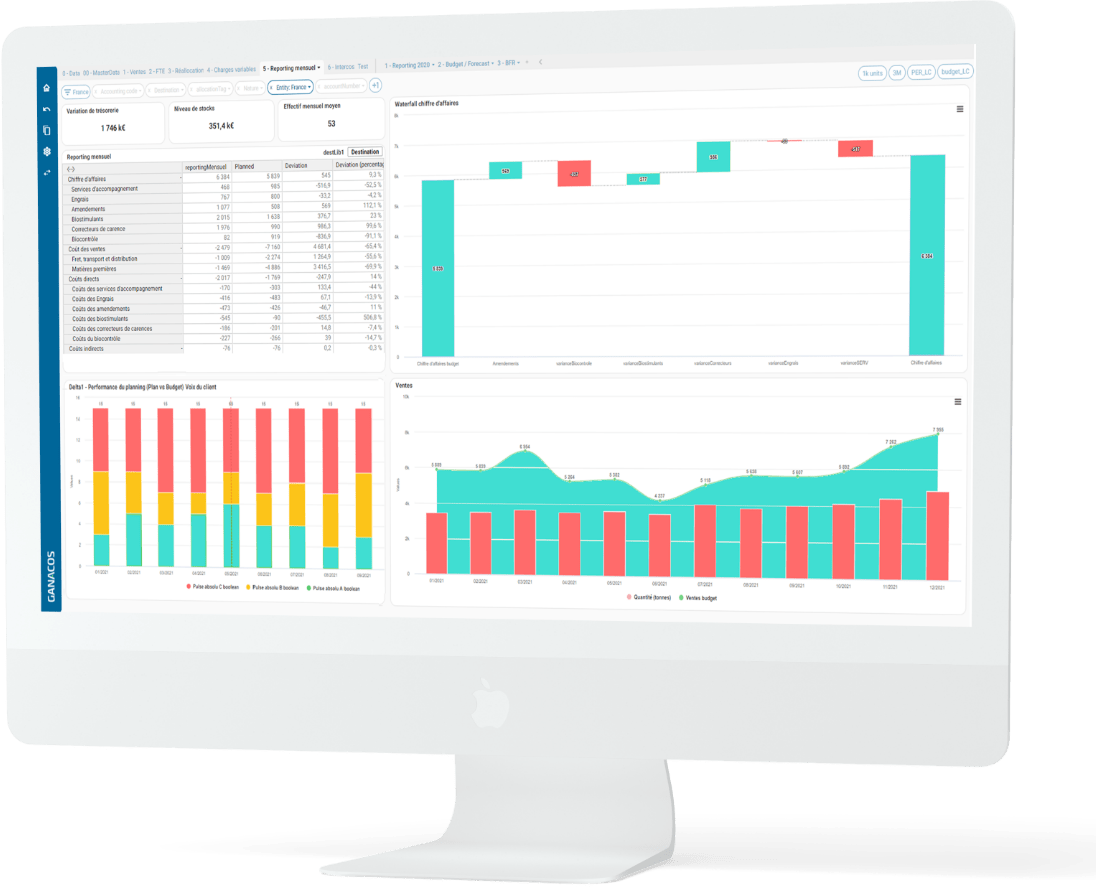 Saves time in the annual budget process and monthly monitoring.
Dynamic management of the company thanks to performance indicators updated every month.
Development of alternative "what-if" scenarios before each strategic decision.
Better anticipation of activity variations thanks to forecasts updated by the teams.
360° vision thanks to monthly reporting at group (and site) level.
Reduction of data errors thanks to Ganacos' unified data source.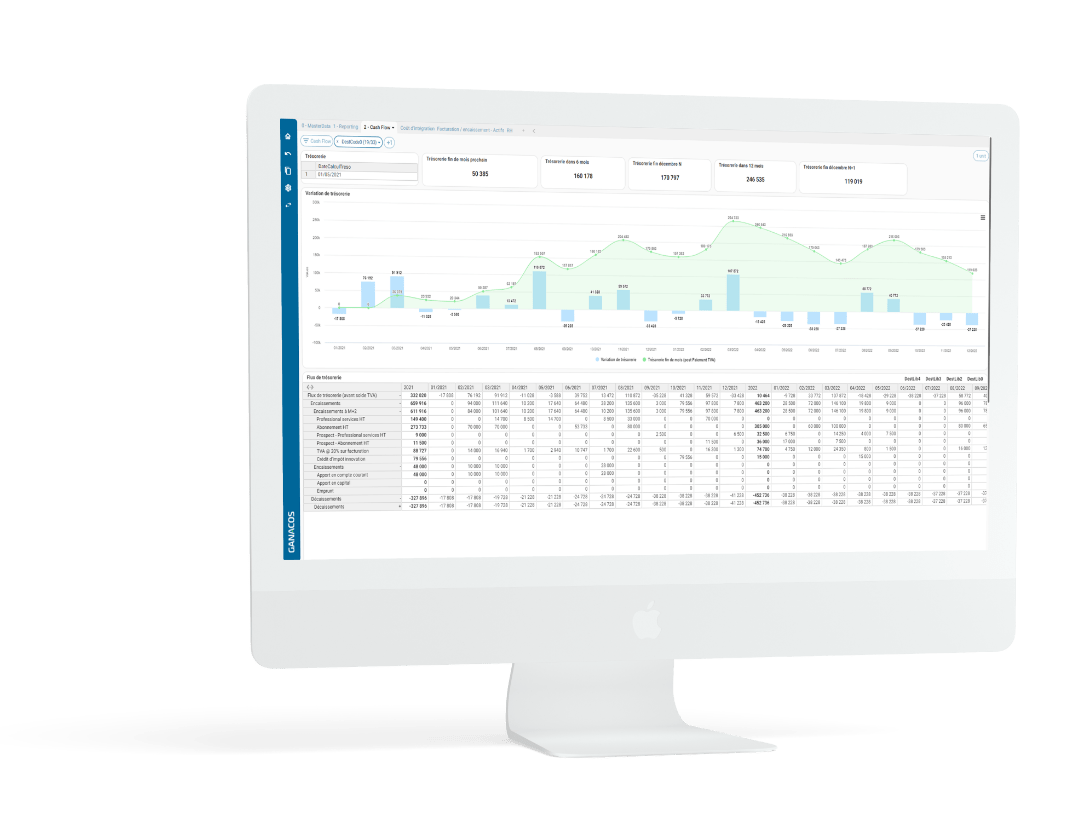 Speed up your annual budget process
At the time of the budgetary exercise, your approach is too accounting and not strategic enough? After importing your N-1 data, Ganacos will automatically calculate a business forecast and allow you to carry out different growth scenarios that you can adjust by entering data at all levels of aggregation of your pivot table. This allows you to make the first strategic decisions as quickly as possible.
Evaluate different budget scenarios by sector
Define new KPIs for each activity
Facilitating reflections in strategic committees
Carry out simulations based on identified risks
Make your budget forecasts in a collaborative way
Thanks to its collaborative approach, Ganacos is the ideal tool to achieve and monitor your budget in the best conditions.
During the elaboration, the managers are involved from the beginning on the same shared interface. As the project progresses, everyone can follow or modify it according to their administration rights.
During monitoring, you are aware at all times of the budget for each activity and the intermediate results obtained. You can create and monitor your financial and statistical indicators, and control variances.
At the end of the process, clear reports can be used to better inform management and facilitate decision-making.
Accelerate the annual budget process with all directorates from a single platform
Implement the monitoring tables for key indicators (sales, expenses, investments)
Monitor variances between actual and estimated budget for each activity
Continuously estimate the landing for the current year
Strengthen your management control
Are you wasting time each month consolidating data from multiple reporting tables? Using Ganacos' collaborative SaaS platform, each site, subsidiary, department can contribute and complete its part from the same software environment (and on the same unified data source). This saves time and minimises errors associated with double entry. Finally, an advanced history management function facilitates this collaborative work.
Manage all the group's OPEX and CAPEX from a single platform
Unify data from several subsidiaries and/or sites with different information systems
Work simultaneously on forecasting and budget planning
Manage all cash flows from a single platform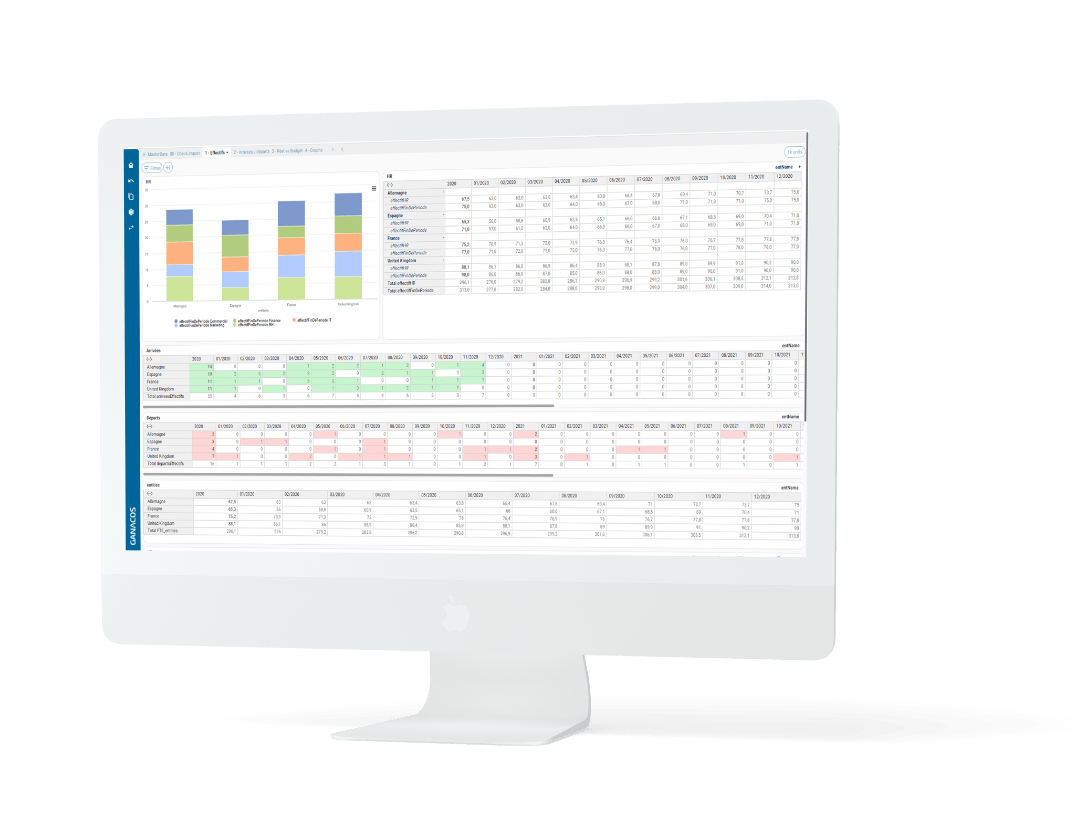 Improve the efficiency of your financial reporting
Are your processes too specific to be managed by your current IS? Combining the simplicity of a spreadsheet with the power of a BI tool, users are able to build their own planning applications using data imported from the ERP, a database or an excel file.
Create product pricing and profitability models
Allow each department to comment on its monthly budget according to specific rules
Create quarterly reporting for each region with a complete budget statement to date
Consolidate the budgetary surplus (or deficit) each week to reallocate it according to the hazards of the activity