S&OP planning software, sales and supply forecasting.
Ganacos allows you to manage your Sales and Operations Plan (SOP), supply and demand planning, load/capacity balance, Master Production Plan, Net Requirements Planning and any specific application requiring the management of complex scenarios.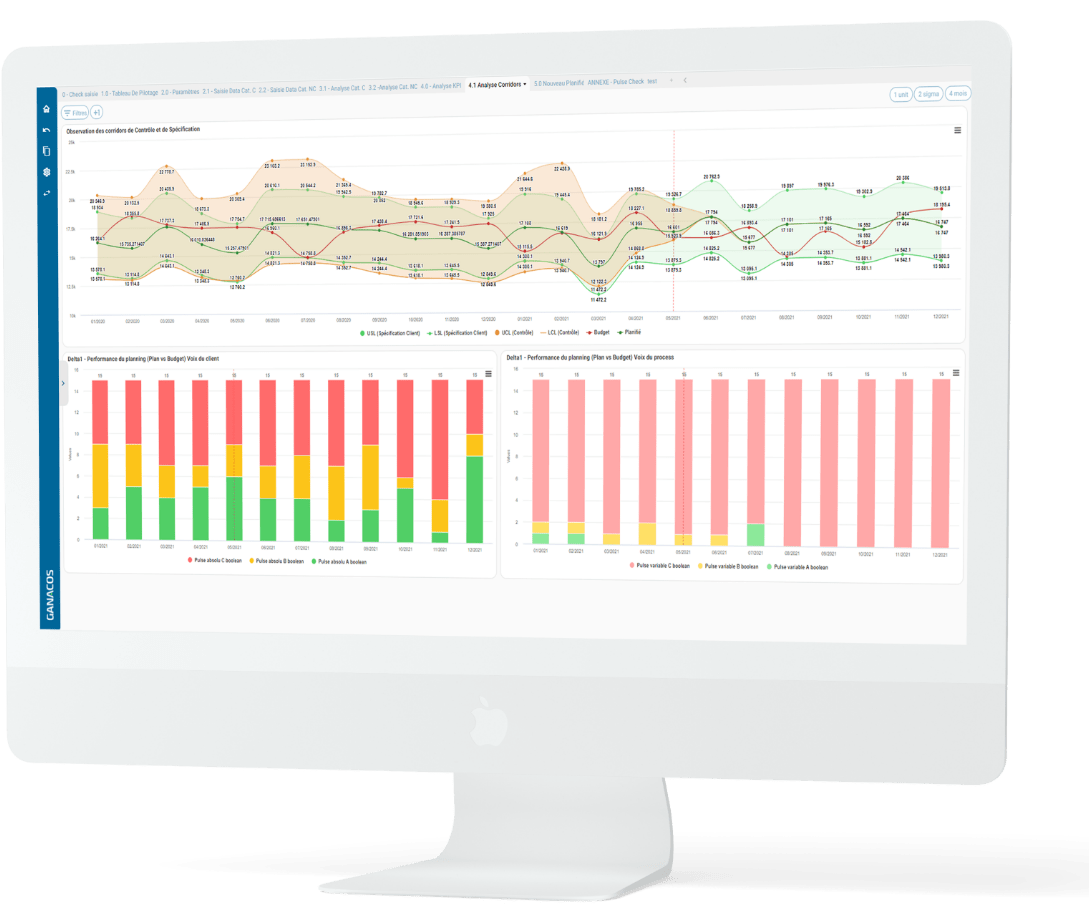 Saves time in compiling data from different functions (trade/supply/production).
Better supply/demand balance thanks to continuously updated and collaborative forecasts.
Improved anticipation of activity variations thanks to interconnected schedules (production, stock, workforce).
Better decision making through the development of alternative "what-if" scenarios.
360° vision thanks to monthly reporting at group (and site) level.
Reduction of data errors thanks to Ganacos' unified data source.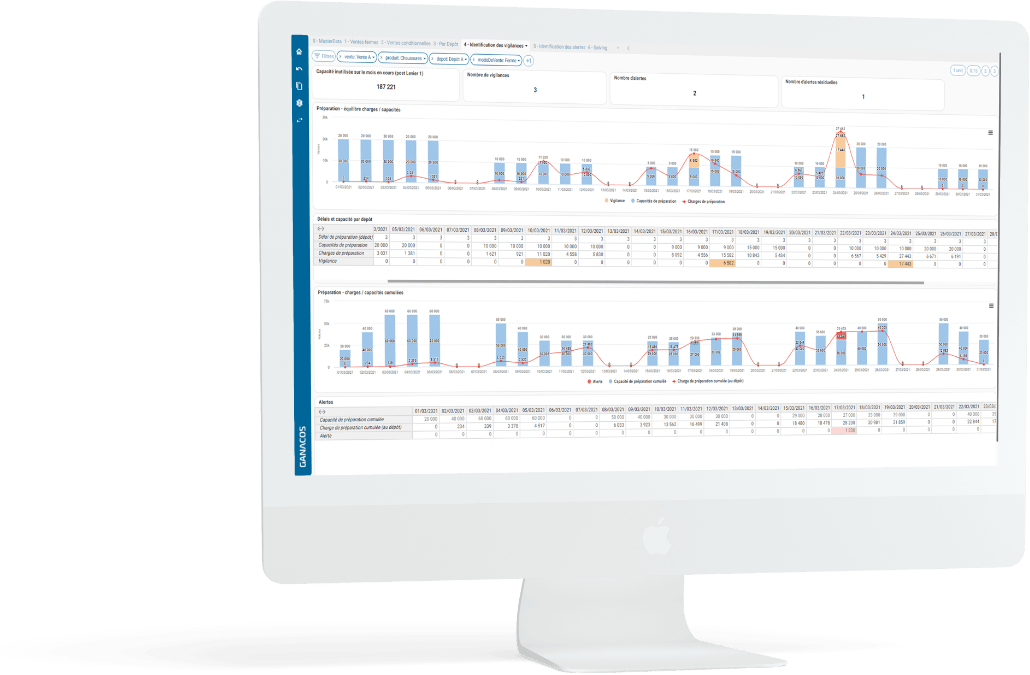 Support your Industrial & Commercial Plan (ICP/S&OP)
In the Ganacos interface, any data that evolves over time can be estimated in the future in a simple way, thanks to algorithms that take into account the data history. Forecasts can be refined by taking into account other parameters such as seasonality and by limiting non-representative values.
Carrying out sales forecasts in collaboration with trade and supply
Assessing the bias of forecasts against actual sales
Estimating the robustness of a plan to different growth scenarios
Make your sales forecasts in a collaborative way
Are you spending too much time crossing and consolidating data from all your teams? Ganacos allows each user to contribute, plan and simulate operations on the same data from the same software environment. This means that employees at separate sites can work on the same application and avoid the need to consolidate data later on. An archive management function facilitates this collaborative work.
Work simultaneously on the sales forecast and the SOP/S&OP
Reconcile data from multiple enterprise systems
Entering new values from multiple sites following an activity hazard
Create and manage your master production plan (MPS)
Are your processes too specific to be 100% integrated into your current ERP? Combining the simplicity of spreadsheets and the implementation of Gantt charts, Ganacos allows users to build their own applications using imported data (ERP, database, Excel file) to implement a production plan and solve rescheduling issues (rush orders, activity variations).
Re-planning the Master Production Plan in response to new, higher priority orders
Prioritise delivery requests according to known delivery constraints
Calculate the impact on product stocks and coverage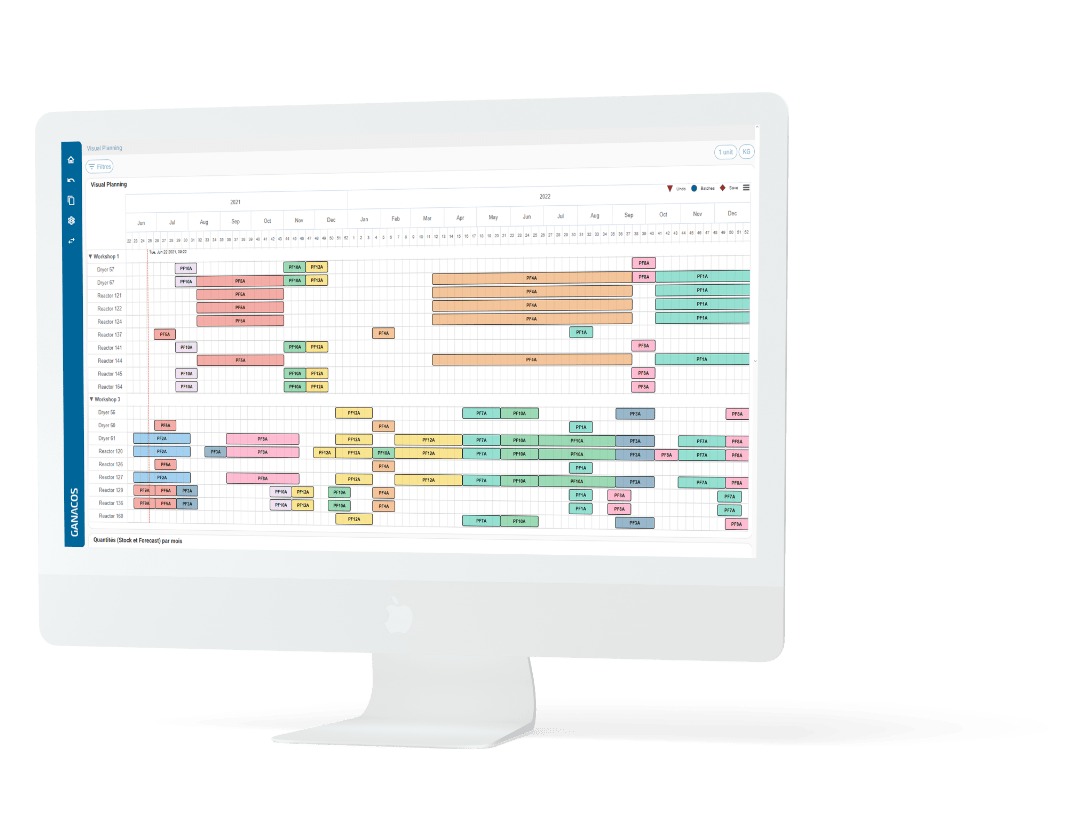 Realise your procurement plan in line with your purchasing strategy
Once set up, the Ganacos solution allows you to optimise stocks and cash flow by continuously comparing activity forecasts and purchase volumes by period. A summary of purchases by month/quarter/year enables the preparation of exchanges with suppliers.
Calculate your purchase volumes from forecast sales
Anticipate purchases based on activity variations and stock levels
Prepare the negotiation phases with suppliers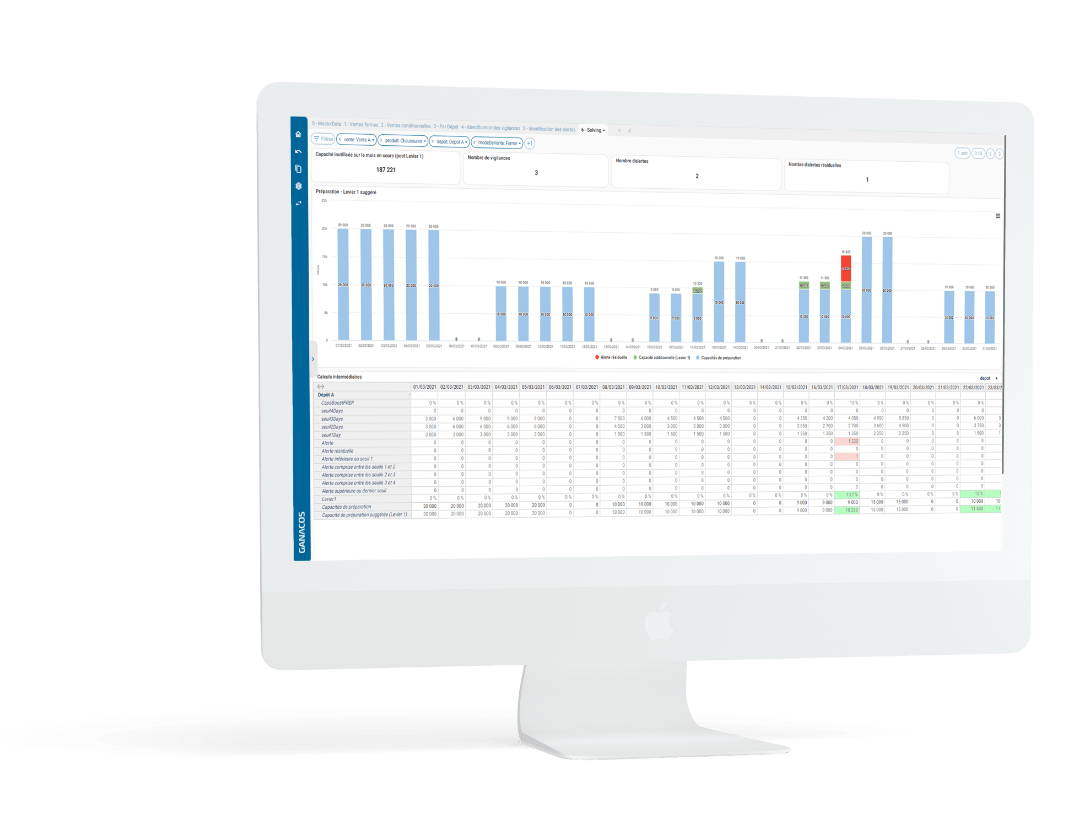 Do you have to constantly monitor hundreds of stock levels? Alert thresholds can be configured to control deviations in key parameters. It is possible to configure different views by perimeter (suppliers, geographical sectors, ranges, sites) and define indicators with associated alert levels.
Generate alerts on all stocks that have reached their low levels
Share key indicators with the whole team with associated alert levels